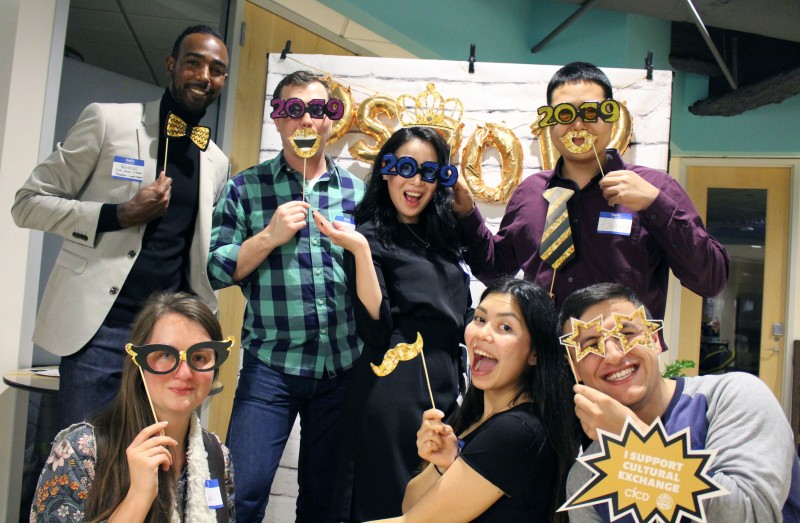 Dec 05 2019
On October 16, 2019, the Center for International Career Development (CICD) and our sister organization NorthWest Student Exchange (NWSE), hosted a cultural exchange celebration in honor of "The Year of the DS-2019". 
Named after the iconic DS-2019 form (required to obtain the J-1 visa), this event was a perfect opportunity to celebrate the passion, hard work, and dedication that is needed to provide transformational cultural exchange experiences. Since it's the year 2019, we just had to take advantage of this truly unique opportunity to celebrate!

And what a party it was! After the last happy guest left and the cleanup was done, we took some time to debrief and evaluate. We discovered that we learned three things by throwing a celebration for Seattle's exchange community: 
Lesson 1: People are happy to celebrate good causes (like cultural exchange)
When we sent out the invitation for our celebration, we were not prepared for the excitement it would garner. We called – and Seattle's international community answered big time! Aside from CICD and NWSE staff and Area Coordinators, our circle of guests included current program participants and alumni, J-1 teachers, and Seattle educators. The event venue was packed and filled with laughter and conversation, as people moved around the space and introduced themselves to one another. 
Mr. Jeff Laband, CEO of CICD and Executive Director of NWSE, started the night off with an opening speech, voicing his excitement for the attendees and pride of their impact on the world through cultural exchange. He highlighted the importance of sharing ideas, teaching philosophies, and business practices with each other – all made possible because of the DS-2019 form and J-1 visa. The crowd couldn't agree more! What a special reminder that we are all interconnected and great cause for celebration!
Lesson 2: One DS-2019 form can impact a thousand lives
Cultural exchange through J-1 visa programs fosters international understanding and personal development, and provides new insights and understanding of the world for everyone involved. By gaining hands-on experience and getting to know people from other cultures on a day-to-day basis by living and learning from them, you get to see the world from a multitude of perspectives. You may even realize that people across the world have more in common than you might think.
CICD's and NWSE's dedicated teams are working hard to make these unique experiences possible! How do we do this? Let's break it down: 
The J-1 visa program has many people dedicated to it around the world to support qualified candidates, including U.S. Department of State and U.S. Embassy staff in various countries, international organizations and agents, schools and universities abroad and in the United States, hundreds of CICD and NWSE field staff, host companies, program supervisors, site visitors, and of course CICD's and NWSE's Seattle headquarter staff. 
During their exchanges, our participants and their host communities and families, internship colleagues, classmates, teachers, mentors, and friends are equally impacted by this experience and the people involved will be forever changed.
"Catalina reminds me why NYC is so great, and her awe inspires me. Sharing our cultures, and learning how alike we are, has been heartwarming and educational (…). I learn from her every day. She has me wanting to go to Amsterdam, too! Sounds like an incredible place! Definitely on my list" – Leigh G., CICD Host Company Supervisor

Lesson 3: Participating in a cultural exchange program opens up a new community
Perhaps the most important takeaway! Bringing the international communities of CICD and NWSE together beautifully highlighted the fact that joining a cultural exchange program provides access to a new community of like-minded people for years to come. Our cultural exchange program participants and alumni are so grateful for and passionate about their experiences that they stay actively involved and in touch with their exchange communities, often for the rest of their lives. By now, we even have second-generation participants on our programs!
By nurturing the relationships made in your new community through the exchange of ideas and experiences, and sharing your culture with others, you develop friendships that will last a lifetime. Thankfully, it's easier than ever to stay in touch and connected even when separated by great distances and  multiple time zones.
Overall, our "Year of the DS-2019" party was a perfect opportunity for our community from all over the world to come together, network, mingle, and enjoy each other's accomplishments. It was a special reminder that we are all interconnected, and a great cause for celebration! 
Ready to get started?
The Center for International Career Development (CICD) is an official U.S. Department of State designated J-1 Visa Sponsor. CICD is authorized to complete the vetting process for your J-1 visa program application and issue you the DS-2019 Form and DS-7002 Form (Training Plan) that you need to apply for the J-1 Training/Internship/Teacher Visa.
Quick Links
Qualification Quiz
Available Positions
CICD Registration Page
Watch this video to learn how to apply!
Once you have secured an internship, training, or teaching position at a U.S. company or school, please register online to begin your application. If you have not yet found a position, consider a full placement opportunity with CICD.
If you know someone interested in high school exchange programs, please refer them to CICD's sister organization, NorthWest Student Exchange (NWSE). NWSE will provide you with a referral award for each student or host family you refer who participates in the NWSE program!