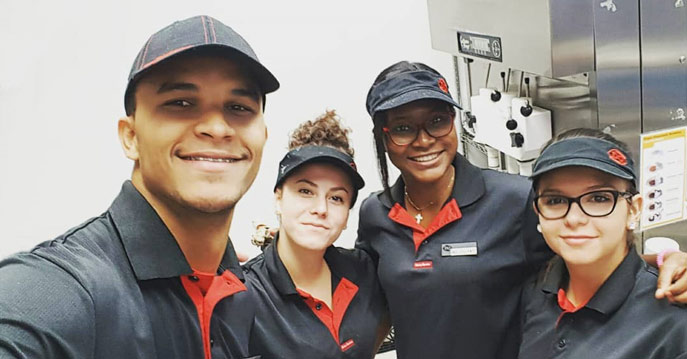 Jan 01 2019
There are few things more valuable than an international experience! With CICD's Work & Travel program, international students (like you!) can spend their university summer break traveling, improving their English, and developing professional skills, all while learning about the people and way of life in the United States.
The Work & Travel program allows university students to come to the United States to share their culture and ideas through temporary work and travel opportunities for up to 4 months. This is not a work visa. It's for work AND fun!
The Center for International Career Development (CICD) is an official U.S. Department of State designated J-1 Program Sponsor. CICD is authorized to complete the vetting for your application and to issue you the DS-2019 Form that is needed to apply for the J-1 Work & Travel Visa.
Who can participate in the J-1 Work and Travel program?
Participants must be current college or university students, enrolled full time and pursuing studies at a post-secondary accredited academic institution located outside the United States. Interested candidates apply through CICD's partner agents abroad. Our partner agents will ensure that applicants are eligible for the program, explain program expectations, provide instructions for the U.S. Embassy interview appointment, and provide resources to help ensure program success. We encourage potential candidates to inquire through CICD directly on our website, so that we can connect you to the right partner!
What sets CICD's Work and Travel Program apart from the rest?
You are not just another participant to us! While you are in the United States on CICD's Work & Travel program, you become part of our family. We love being on a first name basis with our Exchange Visitors.
CICD Sponsorship includes:
DS-2019 Form required to apply for your J-1 Work and Travel Visa
Home country interview, orientation, and support
Useful program and cultural information and J-1 visa application tips
Monitoring and support of your program from start to finish
Coordination of your work and travel program health insurance
Monthly check-ins and cultural activity suggestions
24-hour emergency phone number and support
The best part? CICD Coordinators are world travelers – just like you!
Ready to get started?
To get started please reach out to swt@cicdgo.com with your questions or visit our FAQ's.
We look forward to sponsoring your J-1 Work and Travel J-1 visa program!