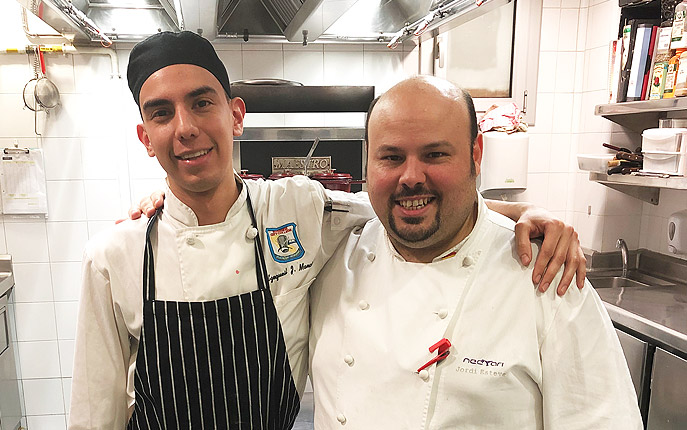 Jun 02 2019
CICD International Programs offers more than just an internship – we offer the experience of a lifetime!
CICD specializes in providing opportunities for qualified candidates to travel the world and gain hands-on career experience. Barcelona is a top choice for culinary students looking to expand their hospitality knowledge while exploring Spain.
Internships take place at the most reputable restaurants (including Michelin awarded) and/or 4- to 5-star hotels in Barcelona or other cities in Spain. Qualified candidates begin their programs by completing a language and cultural immersion program in Barcelona, Spain, where they learn Spanish language basics to succeed during their internships (required for non-Spanish speakers). They then move on to complete internships at hotel-restaurants where they have the opportunity to learn from experienced chefs.
Ezequiel from California shares his experience in Barcelona:
"I'm very happy to have chosen this program. CICD helped me with the application process and get to Barcelona, and they make sure everything is going well for me. This is a once in a lifetime opportunity and I'm glad I'm here.
I had a good welcoming. I arrived late around 1 am to the apartment and was welcomed by my roommate who made me feel right at home. My supervisors and staff members have treated me very well since the first day, helping me with any issues or questions.
Since I speak Spanish, I've had few linguistic barriers. Some words are being used in a different way and there are sayings that are used here in Spain that I have now learned to use myself. Different languages are spoken by everyone but Spanish is used to communicate at work and my roommates speak English well which they like me to speak to them so they can get practice.
My housing is very comfortable I have all the necessities and it's in a good location. Meals are delicious and sometimes very impressive. I can say I've had some of the best meals of my life here and, apart from frequently being treated to more luxury foods, I've learned how to use food that could go to waste and simple ingredients to make delicious meals.
The atmosphere at work is very enjoyable. It's like being part of a small family – we all take care of each other. The chef definitely has one of the best personalities, being everything from professional to helpful to inspirational, and also being able to joke and have a good time. The first week at work I tried more things than ever before – learning new techniques with new ingredients, being able to work with very high quality products. This experience is changing my outlook in the food industry, my life and future.
During my time off, I've been able to roam around Barcelona and visit common tourist locations and very nice restaurants, or simply taking a rest at home.
I thank CICD for helping me experience this once in a lifetime opportunity, knowing I'm in good hands if I were to have any problems, and making such a hard transition so easy and enjoyable."
---
Ready to get started?
Barcelona is a great city for your international adventure – but Spain is not your only option! CICD International Programs offers amazing opportunities around the world. Find an internship abroad that matches your interests!
If you would like to learn more about our international culinary and hospitality programs, please complete our inquiry form.