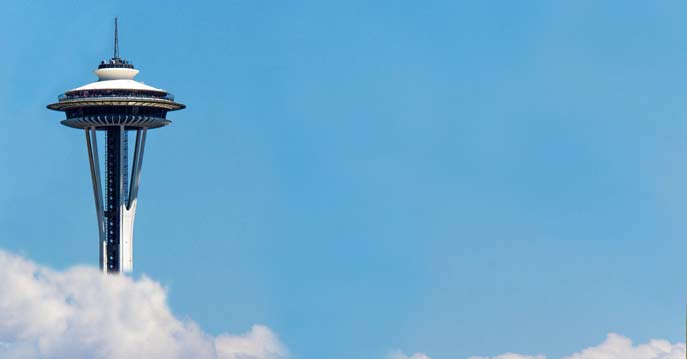 Jan 13 2019
Welcome to Seattle! Home of the Space Needle, three major league sport franchises including the former Super Bowl Champion Seattle Seahawks, Starbucks Coffee, Amazon, and The Center for International Career Development (CICD).
CICD sponsors nearly 3,000 participants on our programs each year. We pride ourselves on helping our participants take part in exciting cultural activities and Grace Period adventures in the USA. Our Seattle team has come up with a list of some of the greatest (and uncommon) viewpoints in Seattle. If you ever find yourself in the Emerald City, here are some of the best views to take in:
1) Kerry Park
Kerry Park should be one of your first stops in Seattle. You may have seen this viewpoint featured on the popular television show Grey's Anatomy. Many locals will come to this spot while the sun is out for school portraits, high school prom pictures, and university graduation photos. With an amazing view of downtown Seattle and the iconic Space Needle, it is worth the visit, day or night. Consider spending New Year's Eve here – the view is amazing!
2) Ella Bailey Park
You likely won't find this park listed on many other websites. Only Seattle locals know about Ella Bailey Park, located in the Magnolia neighborhood. Once a playground for the adjacent Magnolia Elementary School, it has since been renovated and converted into a public park and playground. Ella Bailey Park is home to the most underrated views of Seattle. While perhaps not the best place to watch the Fourth of July fireworks, you can visit this park on any night to see the city skyline light up just for you. If you want to experience a true hidden gem for Seattle travelers, check out Ella Bailey Park.
3) Alki Beach Park
Alki Beach Park is Seattle's own version of the famous Venice Beach Boardwalk in California. With a long stretch of beach, people often rollerblade or bike along the water on a nice day. Alki is located directly across from Downtown Seattle and you can take in the hustle and bustle of city life from the beach. Seattle offers water taxis that will ferry you across the small inlet of the Puget Sound that separates this neighborhood from the rest of the city. The water taxi ride takes about a 20 minute each way, so it makes for a quick trip with spectacular views. Bring your walking shoes if you decide to take the water taxi. It typically drops you off at the very end of the boardwalk and there is a beautiful long walk to the actual beach.
4) Volunteer Park
If you're feeling adventurous, trek up to the top of the water tower in Volunteer Park for a 360 degree view of Seattle and it's most famous landmarks. This unique viewpoint is located in one of Seattle's biggest parks. You can learn the history of the Seattle park system and see photos of how the park has grown and developed over time. The park features a conservatory full of native and exotic plants and a museum dedicated to Asian art. The park hosts many fun and family-friendly events such as the "Lusio" light festival in August. Come for the views, but stay for the peaceful environment and escape from the busy city life.
5) Magnuson Park
Visit this park and enjoy a range of activities! Formerly a military base, Magnuson Park is now the second largest park in Seattle. Nestled on the shores of Lake Washington, this park features multiple sports fields, an off-leash dog park, outdoor movies, miles of hiking trails, a community center, and the best part – the beach!
---
Share your story!
CICD always offers opportunities to win prizes with our photo contests. The most creative photos submitted during your J-1 program are chosen as the winners! Ask your coordinator if there is a contest going on right now!
One of the best things about an exchange program is the opportunity to share your experiences! Join CICD's expanding network on Instagram or Twitter, using the handles @CICDinterntrainee @CICDworkandtravel depending on which program you are enrolled in. Use the hashtags #CICDParticipants #CICDGo #CICDSwt to share your experience in the U.S.
We are committed to providing opportunities to expand your global network. Share with CICD and better reach those in your industry! Want to learn more? Send us an email to marketing@cicdgo.com with your questions.