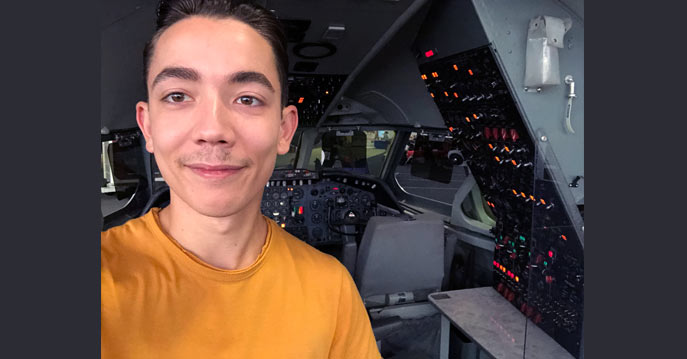 Mar 18 2019
When your dreams turn into reality, it's hard to keep it a secret! Below, Alexandre discusses his experience living in the United States as a Teaching Intern on the J-1 Visa with CICD.
Gaining international experience during your academic or professional career can shape your life and work habits in ways that result in a high level of employability in any given field. Why does this matter? During an international experience, such as an internship abroad, participants attain skills and qualities that companies are actively looking for in candidates, including interpersonal skills, a higher level of adaptability, self-management, problem solving, and important communication skills. International internships teach participants industry standards in their chosen professional field, while also enhancing the language and interpersonal skills needed to succeed in a global job market.
Read on as Alexandre answers questions about his experience in the United States:
Why did you decide to come to the United States?
"After a lot of years dreaming about the US, mostly for travel, I decided to accomplish this dream. I was always fascinated by the US for a lot of reasons. Obviously, I was impressed by the cities and the big buildings, everything was so overwhelming. Also, I was always amazed by the culture and the way of life in America, living day by day, without any boundaries. I had been dreaming about what I saw on TV shows and was impatient to live the same thing. So when I found the opportunity to come to the US, I told myself: 'It is impossible to not participate in this unique project and realize my dream' Furthermore, this internship was in the education area, so obviously that increased my wish to come and be selected to come here and get some experience in the field of education before starting my Master's degree in France."
Share a little about what you are learning at your internship:
"So far, I have learnt many things about teaching in America. Things are different in French teaching strategies. Interning at an immersion school allows me to take a step back about education and realize this. I have learned to take into consideration the needs of the kids and what we can do to help the kids to break down the barriers of some stereotypes that we still have in France. Especially helping with children who have some difficulties with school and struggle in some subjects. I realize that nothing is impossible in teaching here and the school really helps you to progress and has your back in every situation. My mentor has taught me, in some way, to run a class, prepare a unit, and how to create a routine. All the staff members are so nice to you. They help you feel at home and make you feel comfortable. It is definitely not just making copies or preparing coffee. It is really about learning how to teach, how to handle the difference in skills between students, how you can create the perfect climate in a classroom to help each of your students, and how to prepare a year of lessons. I probably have learned more in five months during this internship than in my entire life."
What has been the biggest impact being in the U.S. has had on you?
"I realized that I was more ready for teaching than I thought. My mentor, in addition to being a true source of inspiration, show me how I want to be as a teacher. She is the perfect mix between being empathetic and being strict, between being lovely with every child and being steady. I already knew that I was destined to be a teacher but working with this amazing, talented, passionate and nicest mentor teacher has helped me to find the way that I want be as a teacher."
Which "American customs" will you bring home with you?
"I believed that I will never be able to leave my comfort zone. But since I've been here, I've seen how capable I am and it is probably thanks to this internship and the way of life here. So I think the way of life will be one of the customs that I will bring home. Don't be scared to try something new, don't be scared to leave my house to travel."
What are your future goals?
"Probably doing everything that I can to be the best teacher that I can be. So first, going back to France and get my Master's degree in teaching and pass the examination in the first shot. After all of this, start my career as a teacher and try to apply some American teaching strategies at my job to do a better job. And maybe, why not, make my first step in the French government and more specifically, in the Ministry of National Education to try to make changes in the ways of teaching in France."
---
CICD's mission is to promote the exchange of culture, ideas, and relevant experience worldwide through quality training, internship, work-abroad, and volunteer programs for qualified and diverse international interns, trainees, Work and Travel students, volunteers, and great host companies. Providing excellence in cultural exchange programs is our passion.
CICD Coordinators are world travelers — just like you! We know how much an international internship can advance your career. Ask us how to market your experience on your resume!
Share your story!
CICD always has opportunities to win prizes with our photo contests. The most creative photos submitted during your J-1 program are chosen as the winners! Ask your coordinator if there are any contests going on right now!
The best part of an exchange program is sharing your experiences! Join CICD's expanding network on Instagram or Twitter, using the handles @CICDinterntrainee @CICDworkandtravel depending on which program you are enrolled in. Use the hashtags #CICDParticipants #CICDGo #CICDSwt and keep us part of your experience in the U.S.
We are committed to providing opportunities to expand your global network. Share with CICD, and better reach those in your industry! Want to learn more? Send us an email at marketing@cicdgo.com with your questions.
Ready to get started?
Watch this video to learn how to apply!
Once you have secured an internship or training position at a U.S. Company, please register online to begin your application. If you have not found a program yet, consider a full placement opportunity with CICD.