Feb 27 2019
Gaining international experience during your academic or professional career can shape your life and work habits in ways that result in a high level of employability in any given field. Why does this matter? During an international experience, such as an internship abroad, participants attain skills and qualities that companies are actively looking for in candidates, including interpersonal skills, a higher level of adaptability, self-management, problem solving, and important communication skills. International internships teach participants industry standards in their chosen professional field, while also enhancing the language and interpersonal skills needed to succeed in a global job market.
Learn from a current CICD Intern about her experiences in the USA on the J-1 Visa! Abigael C. is currently participating in an internship program at an established Real Estate firm in Texas. We sent Abigael a few questions about her program. Read her answers below!
What did you learn during your internship in the USA?
"I decided to come to the US because it's my dream to travel internationally. I learned to be more confident in terms of facing clients and I also gained and enhanced my English communication skills. I learned how the real estate industry works. I also learned how to multitask, how to market properties online and administrative tasks. I was able to help and contribute something to our agents while building friendships with them. I was able to experience and enjoy all of it and at the same time gain knowledge, build up my career, be more confident in myself and make myself even stronger as I was independently living in the US."
How did having an international experience impact you?
"The biggest impact of being in the US is that it made me stronger not just physically but also mentally, emotionally and spiritually. We all know it's hard to live far away from our family but sometimes we all need to go out of our comfort zone to learn and gain something by ourselves."
"I missed my family back home too, so everything was pretty hard especially in the first couple of months. But as I said, it was my dream to be in the US, to travel and to learn, so whenever I had those feelings, I would just go back and think about why I started this adventure and chose this direction for my life. As the time passed by, I realized everything is just temporary and that when the time is right I will be able to adapt and overcome whatever circumstances I face. I can say the biggest impact of this whole adventure is that it has molded me to become a stronger person."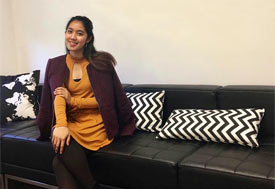 Abigael is currently participating in an internship on the J-1 visa to advance her career so that she can eventually start her own business ventures in her native Philippines.
---
CICD's mission is to promote the exchange of culture, ideas, and relevant experience worldwide through quality training, internship, work-abroad, and volunteer programs for qualified and diverse international interns, trainees, Work and Travel students, volunteers, and great host companies. Providing excellence in cultural exchange programs is our passion.
CICD Coordinators are world travelers — just like you! We know how much an international internship can advance your career. Ask us how to market your experience on your resume!
Ready to get started?
Watch this video to learn how to apply!
Once you have secured an internship or training position at a U.S. Company, please register online to begin your application. If you have not found a program yet, consider a full placement opportunity with CICD.