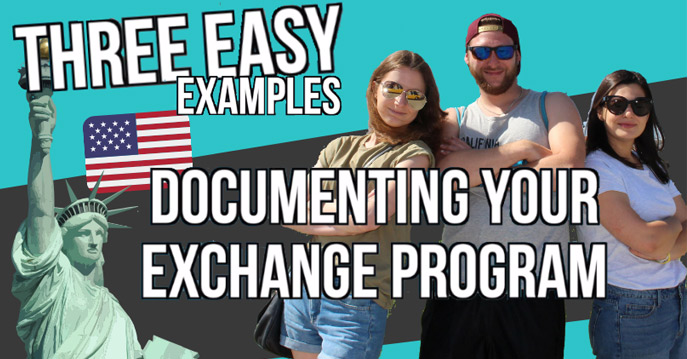 Aug 21 2019
Welcome to the United States! Arriving in a new country can be both exciting and overwhelming. Whether your program is 1 or 18 months long, you'll want to keep track of your international travels! CICD has created a guide that breaks down the top 3 ways that YOU can make a video of your exchange program in the USA. Learn how to create a narrative, vlog, or interview-style video! Our guide will show you that you don't need to be an expert – people of any skill level can make an exciting video!
Read on for CICD's short guide on the top 3 types of videos you can make to document your exchange program!
CICD Coordinators are world travelers, just like you – trust us on this!
Option 1: First Person Narrative
Are you new to filming? Do you prefer being behind the camera instead of in front of it? Then this style of video is perfect for you: a first-person narrative of your exchange experience.
Your video could span your entire time in the U.S., OR you can make a series of shorter videos showcasing specific adventures. We recommend filming in a minimum of 30 second segments of content. The best way to begin is by simply filming EVERYTHING!
For this type of video, don't worry about what is or is not "important." Simple, everyday activities can be turned into what's known as B-roll. Examples of this can include walking along the beach, your daily commute, the food you're eating, or beautiful views in your new city.
Next, you can edit the content together to highlight your favorite moments, perhaps with a fun song in the background. Music is key to the "feel" of your video! Choose something that will bring your story to life, like pairing an uplifting beat with a sunny day at the beach, or something slower for when you're saying goodbye to all the friends you made. Along with music, you can also record a voice-over describing your experience.
Thinking about using a well-known song for your video? Make sure to check the copyright restrictions when posting your video to public social media platforms or your video might be rejected or taken down. You can also find royalty-free music online. Try using sites like SoundCloud.
Putting together even a simple video is a great way to experiment with new, creative ways to share your experience. Start thinking about things to film in your everyday life to add to your video!
Option 2: Vlog your Exchange
Vlogging is one of the best ways to showcase your experience. It combines your personality and everyday life to give your followers full exposure to what's going on with you!
Here's how Vlogging works: Set up your camera or your phone so that your face is well-lit and visible. Introduce yourself to the camera – eye contact is key! Start by introducing yourself: who you are, what you're doing and why you're vlogging! Here is an example: "Hi, I'm Sarah, and today I'm going on an adventure to the famous American Hollywood sign in California!" From there, you can really talk about anything you want. Vlogging has become extremely popular on social media and is a great way to build your confidence, as well as learn how to talk in front of the camera. This is a valuable skill that can also translate to public speaking for your training program/school/career!
While our previous example takes your audience through the everyday life of your exchange program, a vlog delivers a slightly more personal message since you are able to talk directly to your audience.
Pro tip: Include all the new friends you have made in your exchange in your vlog!
Option 3: Have a Friend Interview You
Having a friend film you in an interview-style video is another great way to share your exchange program experiences. These type of videos are especially popular for virtual resumes, online portfolios, or for posting on professional websites such as LinkedIn. People are curious about how you were able to come to the USA – this type of video can inspire them to do it, too!
Tips and Tricks: 
Ask questions that will prompt more than a simple "yes" or "no" response. Example: What inspired you to come to the United States?
Brainstorm your answers BEFORE you start filming. You will want to have a good idea of the type of video you are trying to produce.
Know where to keep your eye contact and stay consistent. Either look at the camera directly or to the side where the person conducting the interview would sit.
Include B-roll footage in the video along with your interview. Using footage that relates to what you're talking about will give the audience an emotional reaction. In the example video, CICD participant Joana discusses how she created a community through skateboarding. While she talks about the importance of skateboarding, she uses film of her actually learning how to skate. This is a great example of showcasing your experience while describing the impact it had on you!
Start Filming!
Now that you know how to create the perfect video to document your exchange, it's time to start filming! Choose between one of the three video options above to showcase your exchange to your friends, family, and CICD!
Share your Story!
CICD always has opportunities to win prizes with our photo contests. The most creative photos submitted during your J-1 program are chosen as the winners! Ask your coordinator if there are any contests going on right now!
The best part of an exchange program is sharing your experiences! Join CICD's expanding network on Instagram or Twitter, using the handles @CICDinterntrainee @CICDworkandtravel depending on which program you are enrolled in. Use the hashtags #CICDParticipants #CICDGo #CICDSwt and keep us part of your experience in the U.S.
We are committed to providing opportunities to expand your global network. Share with CICD, and better reach those in your industry! Want to learn more? Send us an email at marketing@cicdgo.com with your questions.